Beach Wedding Considerations
Beach-themed weddings have gradually become the most popular form of wedding for young couples nowadays. Feeling the gentle sea breeze, the rolling waves, and the soft sand under your feet, watching the seagulls flying in the distance, and holding a wedding in such a beautiful environment is a real pleasure. A great enjoyment. The romantic wedding on the beach is full of infinite temptations for everyone, but while looking forward to it, some things must be understood:
1. What aspects should be paid attention to in a seaside wedding?
(1) Time schedule
While no one can guarantee that it will be a good day, you can start by researching the seasons at the beach and choosing a sunny day for your beach wedding. First, choose the time when the beach wind is small to make the ceremony vows. Secondly, if the sea breeze is too strong, a beautiful veil should be used as a barrier behind it.
Secondly, try to avoid the noontime with strong sunlight and choose the sunset time with softer light to hold the ceremony, to take better pictures of the seascape ceremony. If the weather is hot, you can prepare a screen to shield yourself from the sun and sea breeze at the wedding site, such as a practical tent or beach umbrella. At the same time, you can prepare some sunscreen and thirst-quenching drinks for guests.
Finally, pay special attention to the ebb and flow of the tides. Be sure to know when the tides generally occur to avoid the tides washing away items on the beach.
(2) Wedding clothing
Wedding dresses: On the beach, layered wedding dresses with long trailing tails look formal and restrict the bride's movement. Dress with a simple, playful, airy design. To avoid sweating, choose light, thin, and breathable fabrics, such as tulle, chiffon, satin, and so on. Remember not to use a silk wedding dress as it is thicker and not suitable for hot outdoor beach weddings.
Shoes: High heels are not suitable for a beach wedding. Walking barefoot on the beach or wearing a pair of trendy flat sandals is the most appropriate look.
Veil: The beach is very windy, so it is not suitable to wear a veil. Inserting a small flower in the hair is a good choice. If you want to wear a veil, make sure it's fastened so it doesn't fall with the wind.
Guest dresses: Let guests know that the wedding will be on the beach so they dress appropriately. Therefore, it should be noted on the invitation, such as: "seaside wedding" or "beach wedding" and so on.
Finally, the UV radiation on the beach is particularly strong, and the sea and the sea can have different levels of skin and hair. Before the wedding, don't forget to apply some sunscreen.
(3) Wedding food
At a beach wedding, whether you are dining on the terrace or in a small restaurant by the sea, it is best to eat some fresh and light food. Naturally, seafood is inevitable, such as prawns and lemon Gabriella, and grilled fish with tomato sauce. Also, choose some local specialties. In addition, desserts can choose tropical fruits or chocolate in the shape of shells.
(4) Laying a channel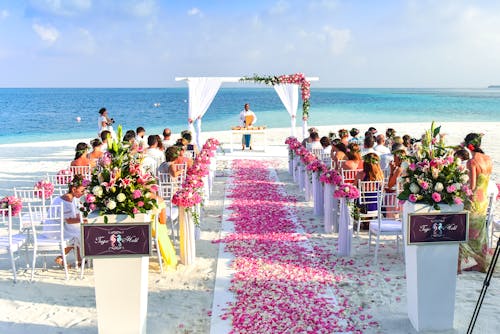 If the wind is light on the beach, you can sprinkle some rose petals to pave the pathway. If not, use a conch shell or sticks tied with tulle bows to make a beautiful path. In addition, ask a beach artist or a passionate friend to create it for you: create a row of small sand sculptures on both sides of the passage, or use a sand pot with a floral top to decorate it.
(5) Make the guests comfortable
Beaches are hot in summer, so be prepared to shield yourself from the sun and sea breeze: tents or beach umbrellas. Guests should be offered water or other non-alcoholic beverages before the wedding, in containers filled with ice. It is also thoughtful to provide a small fan, cheap sunglasses, or travel-size sunscreen.
(6) Cope with rain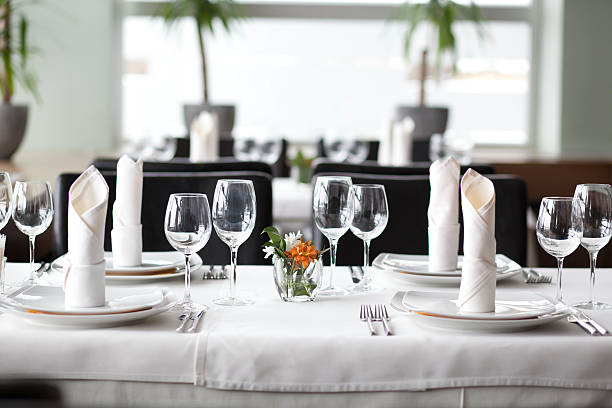 Before your wedding, have a rain plan in place to avoid sudden rain that catches you off guard. The safest bet is to book a ballroom at a seaside hotel or resort so you can move your wedding there whenever you want. If you only have a few guests, finding a beach gazebo or a sheltered patio is also a good option. Of course, no matter which place you choose, make sure you're familiar with the layout of the room so you don't scramble to change plans.
2. Some wedding dresses suitable for beach weddings
(1) Simple a line appliqué tulle wedding dress
(2) Long sleeve lace wedding dress
(3) Sexy mermaid wedding dress
(4) Unique high low wedding dress