Hot Colors for Summer Bridesmaid Dresses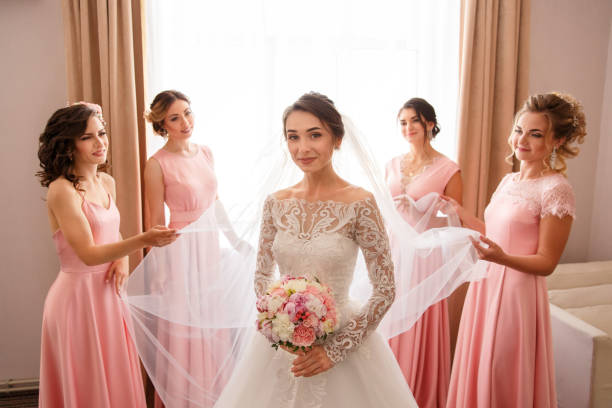 Summer has finally arrived. But what's hot right now in the wedding fashion world? Summer bridesmaid dresses. With the new season just around the corner, we are inspired by this beautiful weather and wedding season.
From bright, bold shades, fun floral patterns, and pretty styles, we've been able to discover some summer bridesmaid looks that brides love.
Summer wedding colors are traditionally bright and vibrant. Whether you're holding your wedding ceremony outdoors, in the sun, or indoors away from these, bright colors will complement the sunny season and add a pop of cheer to your wedding photos.
Elegant blue series
Blue bridesmaid dress looks fantastic against the summer sky and sea colors. Blue dresses make skin look better for many people, make blue eyes sparkle more, and there are over a million different shades to choose from.
Vibrant pink series
The pink bridesmaid dresses are perfect for showing a feeling from sweet and romantic to timeless and elegant and look great with different hair colors.
Bright yellow series
Don't be afraid of yellow bridesmaid dresses. The right arrangement of yellows can suit a wide range of skin tones and add a beautiful sun-like light to your special day.
Mix color series
If you're after a lighthearted summer wedding, mix and match bridesmaid dresses. Lately, we've seen a lot of weddings featuring a mix of bridesmaid dresses. But be careful not to mix and match too many different colors, and it is best to choose a mix and match of the same color. For example, light shades go with light shades. Otherwise, your guests may get dizzy. We love earthy pinks, mint, lilac, powder blue, peach, apricot, and pale yellow.
With the trendy patchwork bridesmaid dresses at the moment, this is a drawing board for your bridesmaids to choose from different colors and styles to suit their personalities. They will appreciate you because they will wear these gowns again.
Cheerful print series
While pastel shades tend to be associated with summer weddings, I think they are also in love with garden weddings or summer beach weddings. We've seen a lot of vintage print bridesmaid dresses pop up at weddings lately, and these old-world floral fabrics are so sweet.
Fashion metallic color series
Sequin bridesmaid dresses are a stylish way to bring a glamorous vibe to your wedding. Dress your bridesmaids in soft, complementary colors like neutral champagne and pale pink for a romantic look.
Mismatched dressing style. Take what you need.
Whatever your taste, we know you'll have a lot of fun choosing your summer bridesmaid dresses. Click through to see our collection of summer bridesmaid dresses and you'll have more ideas.