How Different Fabrics Can Impact the Style and Design of Your Wedding Dress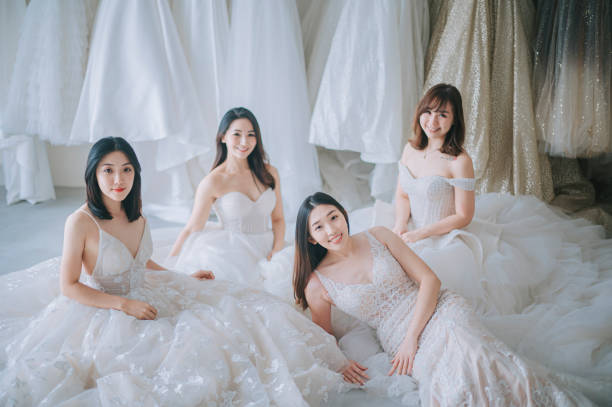 Your wedding day is one of the most memorable days of your life, and the dress you choose to wear will undoubtedly be the centerpiece. With so many fabrics to choose from, finding the perfect one for your gown can be daunting. However, understanding how different fabrics can impact the style and design of your wedding dress will help you make an informed decision. From the classic and timeless look of silk to the airy and romantic feel of chiffon, this article will guide you through the unique qualities of each fabric and help you choose the perfect match for your vision. So, let's dive into how different fabrics can impact the style and design of your dream wedding dress.,
Silk - The Classic Choice
When it comes to choosing the perfect fabric for your wedding dress, silk is undoubtedly a timeless classic. Silk is a natural protein fiber that has been used in textile production for over 5,000 years, and for good reason. It's a luxurious, lustrous fabric that drapes beautifully and feels soft and smooth against the skin.
Silk works well for a variety of styles, from sleek and modern to romantic and vintage-inspired. It has a natural sheen that catches the light and enhances the gown's overall appearance. Plus, silk is versatile and can be used for everything from the body of the dress to the detailing and trim.
Silk comes in a wide range of weaves, weights, and finishes, so you'll have plenty of options to choose from. Some popular types of silk include crepe de chine, charmeuse, and dupioni. Each type of silk has its own unique look and feel, so it's worth experimenting to see which one best matches your vision.
If you're looking for a classic, elegant fabric for your wedding dress, silk is an excellent choice. Its versatility and timelessness make it a go-to fabric for designers and brides alike. 
Satin - For a Luxurious Look
Satin is a popular fabric choice for wedding dresses, thanks to its smooth and silky texture that drapes beautifully on the body. The fabric's soft sheen adds a touch of luxury and elegance to any gown, making it an ideal choice for brides who want to feel like a queen on their special day.
Satin can come in various weights, from heavy and stiff to lightweight and fluid, making it easy to find a satin that suits your desired look and feel. A heavy satin is perfect for structured gowns that hold their shape, while a lighter satin adds movement and flow to a dress.
While satin is a popular choice for traditional ballgowns, it can also be incorporated into more modern designs. A satin slip dress with a low back and spaghetti straps is a chic and sexy option for the fashion-forward bride.
If you're considering a satin wedding dress, keep in mind that the fabric can be unforgiving when it comes to showing every little bulge or bump. Make sure to get the right undergarments to smooth out any problem areas.
Chiffon - Soft and Romantic
Chiffon is often the top choice for brides looking for a soft and romantic wedding dress. This lightweight and floaty fabric is known for its dreamy quality, making it ideal for those who want to look like a fairy-tale princess. Its sheer quality adds a delicate touch to any design, making it an excellent choice for full skirts, overlays, and sleeves. 
With chiffon, you won't have to worry about feeling weighed down or uncomfortable on your special day. The fabric is breathable, and its lightweight texture will keep you cool and comfortable throughout the festivities. It's perfect for summer weddings or events where the weather is warm. 
Another great thing about chiffon is that it drapes beautifully, which means it works well for both fitted and flowy styles. It can be used to create a classic silhouette or a more modern, boho-inspired wedding dress. Its versatility is unmatched, and it looks great in any color. 
Lace - Elegant and Timeless
Lace has been a popular fabric in wedding dress design for centuries, and it's not hard to see why. This elegant and timeless material has a delicate, romantic quality that can add a touch of sophistication to any bridal gown. From delicate Chantilly lace to bold, textured Alencon lace, there are countless options to choose from when incorporating this classic fabric into your wedding dress design.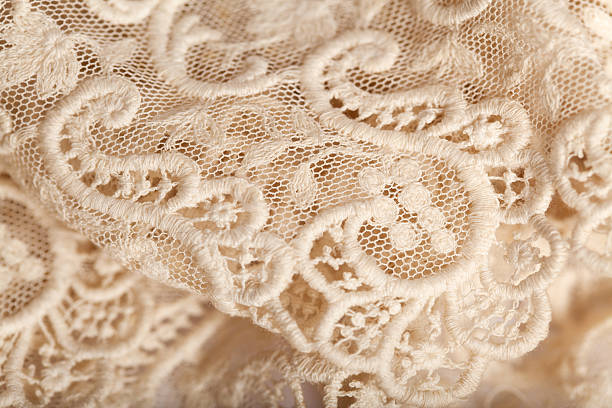 One of the great things about lace is its versatility. It can be used to create a wide range of styles, from vintage-inspired gowns to more contemporary looks. Whether you're going for a boho-chic vibe or a classic, traditional feel, lace can be customized to fit your unique vision.
In addition to its aesthetic appeal, lace can also add texture and depth to your dress design. The intricate patterns and delicate details of this fabric can create a stunning visual effect and draw attention to key features of your gown. Whether you opt for all-over lace or just a few carefully placed accents, this fabric is sure to make an impact.
Next, we'll look at how tulle can be used to create volume and texture in your wedding dress design.,
Tulle - Perfect for Volume and Texture
Next, let's explore the versatility of tulle and how it can elevate your wedding dress design. This lightweight, sheer fabric is perfect for creating volume and texture without adding bulk. It can be used in layers for a romantic and ethereal effect or in a single layer for subtle movement and dimension.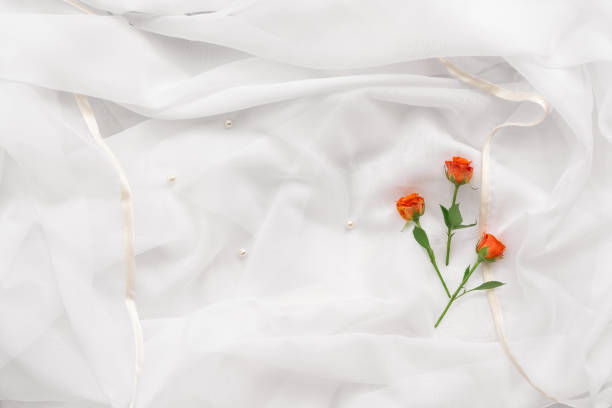 One great way to incorporate tulle into your dress design is by using it for the skirt. A full, tulle skirt can add just the right amount of flounce and drama to your look without overwhelming the rest of the dress. Alternatively, you can use tulle overlays on the bodice or sleeves to create an illusion effect or add a touch of whimsy to a more traditional gown.
Tulle also pairs beautifully with other fabrics, such as lace, to add depth and dimension to the design. It can be used sparingly as an accent or incorporated more heavily for a bold statement.
Organza - Light and Breezy
Organza is a sheer fabric that creates a weightless and ethereal look for a wedding dress. It is made from silk or synthetic fibers and has a crisp texture that holds its shape well. Unlike tulle, organza has a slight sheen to it, which can add a touch of glamour to the overall design.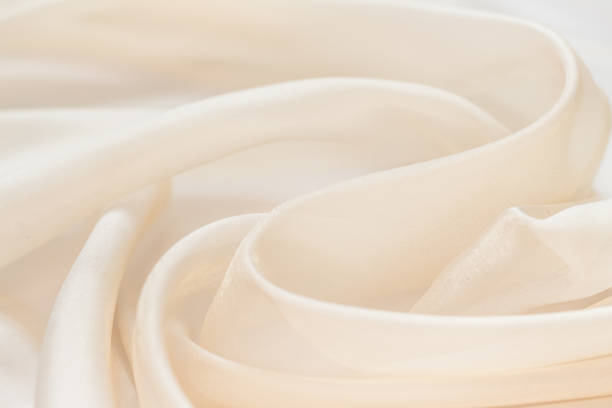 Because of its lightweight quality, organza is often used for skirts or sleeves to create a flowing, airy effect. It is also a popular choice for adding volume to ball gown-style dresses, as it can create a full, voluminous skirt without adding too much weight.
Organza can be paired with other fabrics, such as satin or lace, to create a layered effect. It is also a great choice for adding subtle beading or embroidery, as the sheer fabric allows the embellishments to shine through without overwhelming the design.
Overall, organza is a perfect choice for brides who want a light and breezy look for their wedding dress. Its weightless quality can create a romantic and feminine effect that is perfect for a wedding day.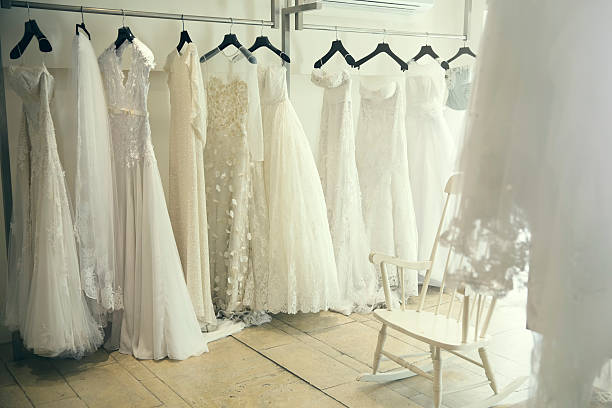 Choosing the perfect fabric for your wedding dress can be a daunting task. But understanding the unique qualities of each fabric can make all the difference in achieving your desired style and design. From the classic elegance of silk to the light and breezy feel of organza, each fabric has its own charm and can make a significant impact on your overall look. So, don't be afraid to explore your options and experiment with different fabrics. Always keep your vision in mind and remember that your wedding day is a once-in-a-lifetime experience. As the saying goes, "the fabric of our lives is woven with moments like these." Make yours unforgettable.