How To Choose Wedding Shoes? Tips For Choosing Wedding Shoes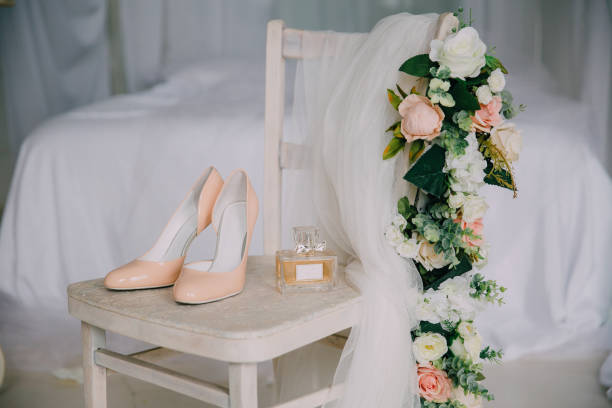 Wedding shoes are important shoes that a bride wears at her wedding. They come in different shapes and styles and can be heels, flats, stilettos, block heels, pointed toes, round toes, and more. When choosing wedding shoes, brides should consider many factors, including shoe comfort, style, color, and length to match the wedding dress, occasion, and budget.
How To Choose A Pair Of Satisfactory Wedding Shoes?
Comfort
The comfort of the shoes is crucial as the bride needs to wear them throughout the wedding, including walking, dancing, and more. Therefore, the material of wedding shoes should not be too hard. It is better to choose soft and breathable shoes so that you will not feel uncomfortable wearing them for a long time on the wedding day. It is recommended to choose shoes with high comforts such as cowhide or sheepskin shoes to ensure that they are suitable for you. Foot shape and able to wear comfortably.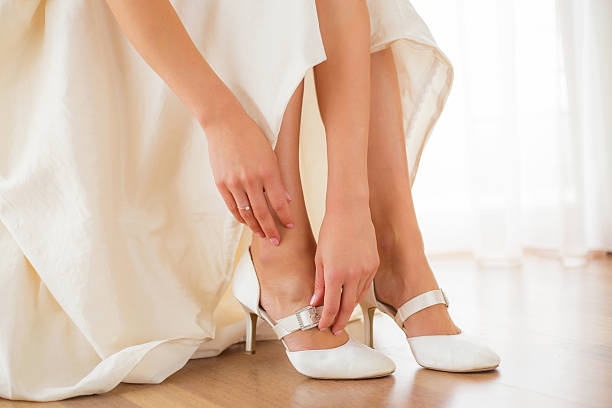 Shape
The style of wedding shoes should match the style of the wedding dress to create a harmonious overall effect. Wedding shoes generally include satin, silk, embroidery, velvet, lace, bright diamonds, etc. Satin wedding shoes are elegant and elegant, embroidered wedding shoes are dignified and noble, lace wedding shoes are pretty and lovely, and brides can choose the appropriate fabric according to the style of the wedding dress and style! If the wedding dress is short, you can choose stiletto heels. If the wedding dress is long, you can choose thick high heels for easy walking. If your wedding dress is colorful or has a pattern such as lace, you can choose shoes that match it.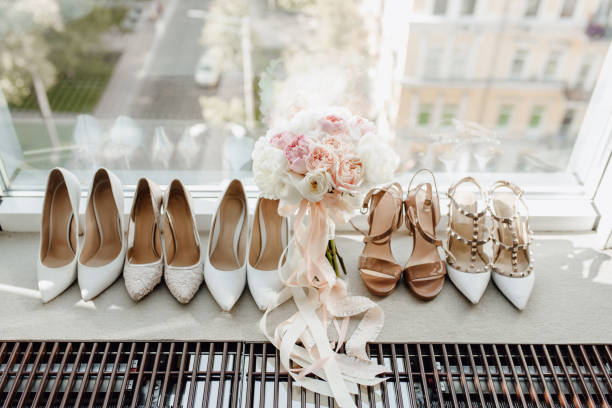 Wedding Venue
The occasion is also an important consideration. If your wedding is held outdoors or on the beach, flat or thick heels are your best choice. These kinds of shoes are easy to walk. Stilettos are not recommended because they will sink into the sand or soil. If your wedding is an evening or a formal occasion, stilettos can help you project a more elegant image.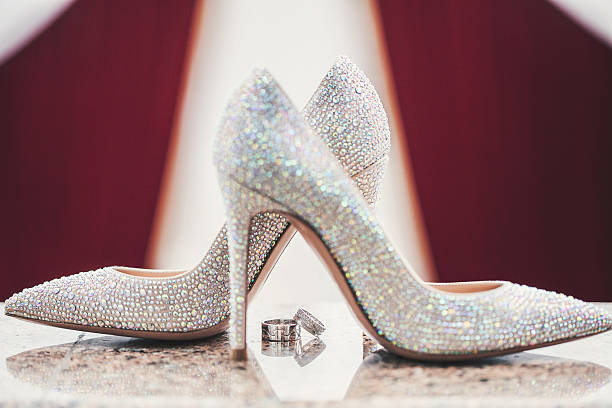 Budget
Budget is also a consideration. The price of wedding shoes can vary widely, ranging from tens of dollars to thousands of dollars. Therefore, when choosing wedding shoes, the bride should choose according to her budget, and be careful not to exceed her affordability. In addition, when buying wedding shoes, you can choose a style that is more versatile in everyday life, which can be matched with daily clothing and can also be worn on weekdays.
Choice Of Wedding Shoes
1. The center of gravity of the shoe needs to be at a 45-degree angle to the heel. When a shoe is designed with a 45-degree angle between the center of gravity and the heel, the bride will allow the entire sole to be evenly stressed when wearing high heels, so that she will not feel Tiredness or discomfort. Whether it is a design greater than 45 degrees or less than 45 degrees, it will make the bride feel tired and uncomfortable when walking.
2. The toe should be raised by one centimeter. When the toe of a pair of high-heeled shoes is raised by one centimeter, it can effectively slow down the pressure of the feet rushing forward during walking, thereby reducing the extrusion of the toes. Of course, the more upturned the toe is, the better. An overly upturned toe will cause discomfort on the soles of your feet.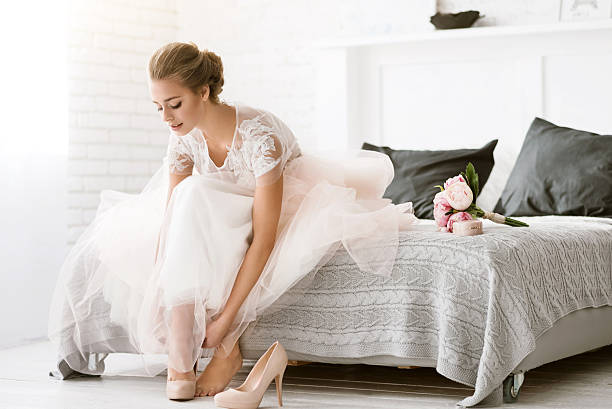 Color Choice Of Wedding Shoes
Wedding shoes should be determined according to the color of the wedding dress. Generally, a white wedding dress or a champagne wedding dress can be matched with white, champagne, off-white, pearl, light gray, gold, and other versatile light-toned wedding shoes.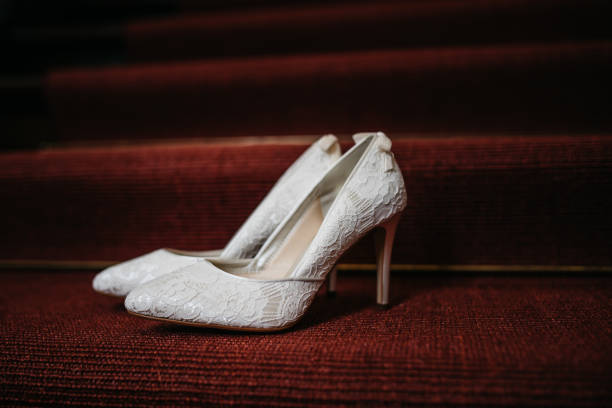 White White is always a versatile color with color, so if you don't know what color shoes to wear with your wedding dress, you can't go wrong with white bridal shoes. And bridal shoes of this color will also show a better wearing effect.
2. Red-soled shoes If you want to add some festive red elements on your wedding day, and consider that the bright red shoes cannot match the white wedding dress, you can choose red-soled high heels. The shoes of high-heeled shoes can be in low-key and luxurious colors such as white, gold, silver, champagne, etc., and the soles can be used in red. 
The Choice Of Wedding Shoe Heel Height
The height of the wedding shoes is related to the comfort of the couple on the wedding day, so the heels of the wedding shoes must match their own, and they should not be too high to affect their body curves and smooth movements. Generally speaking, high heels of about 5 cm can be controlled by all girls; heel heights of 8-10 cm are suitable for brides who often wear high heels. For petite brides, if you want to choose wedding shoes over 12cm, you must choose wedding shoes with a waterproof platform, to add comfort and smoothness of movement to yourself.
Our suggestion is to choose high-heeled shoes with a height of 5-8cm. This length can not only lengthen the leg line but also take into account comfort. At the same time, wedge heels and thick heels will not tire your feet. If the bride is taller, you can also choose a pair of comfortable flat shoes. If the bride's height is sufficient or matches the groom's height, it is also possible to choose flat heels or low heels. It is not recommended to choose high heels with a height of more than 8cm. The bride will be very tired after standing for a long time.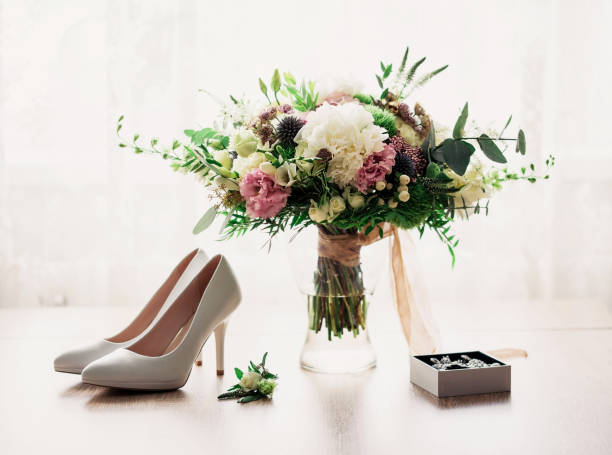 How To Try On Wedding Shoes❓
When choosing wedding shoes, if you encounter shoes you like, it is best to stand or walk more when trying them on, to feel whether they are comfortable to wear and whether they will be tired after wearing them for a long time.
①Standing for five minutes: Trying on shoes requires not only walking but also standing and trying them on for five minutes to judge whether the feet can adapt to the shoes.
②Try to tiptoe: After wearing the shoes, try to tiptoe to see if the heel is 2cm away from the bottom of the shoe. If so, it is a suitable pair of shoes.
③The heel and the vamp are curved at 45 degrees: ensure that the force on the front and rear soles are even, if it exceeds 45 degrees, the forefoot will be very hard.
④Try-on time: 3:00 p.m. to 6:00 p.m. is the best time to choose shoes, because the feet will swell slightly during this time, and the size you choose will not feel small on the wedding day.
Common wedding shoe styles
Peep Toe: fish mouth shoes are a popular style, and many brides will choose them when choosing wedding shoes, the feet feel more comfortable, and they will be easy to wear.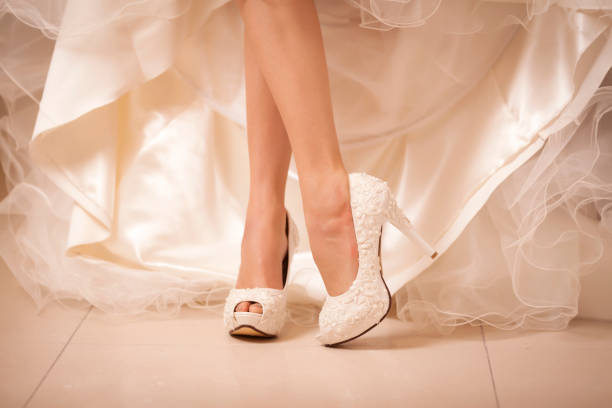 Pointy Toe: The style of pointed-toe shoes is the most elegant and atmospheric, which is very suitable for matching with the main wedding dress. If the main wedding dress is grander, the height of the heel should be high enough, preferably 8-10cm, to make the figure more upright and beautiful.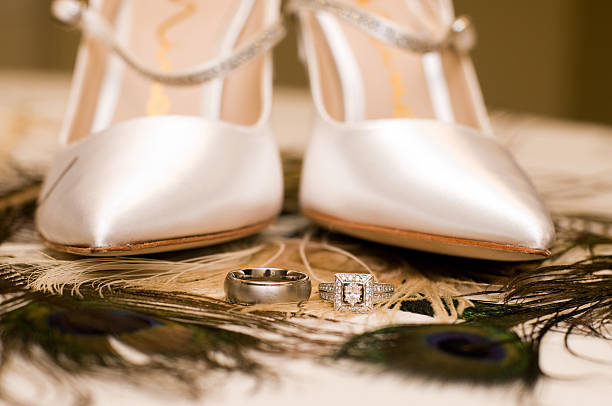 Boots: If you are holding a wedding in winter, wearing high heels will make you feel cold. Short boots are the first choice for winter weddings. You can choose white solid color models, or simple styles with diamonds, lace, or bows. Even if a corner is exposed, It won't be obtrusive either.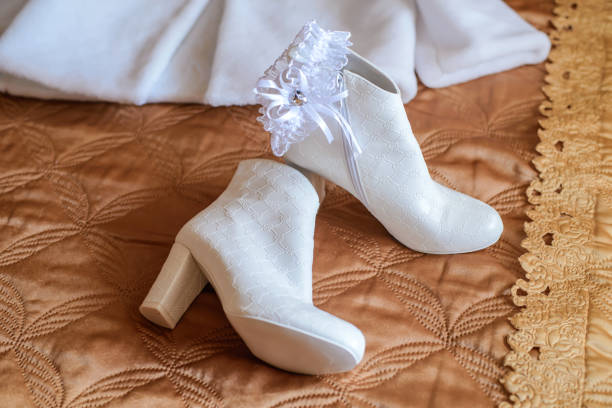 In conclusion, wedding shoes are important shoes that a bride wears at her wedding. When choosing wedding shoes, the bride should consider many factors and choose the most suitable shoes for her to create a perfect wedding image.