Lawn Wedding Has To Pay Attention To The Details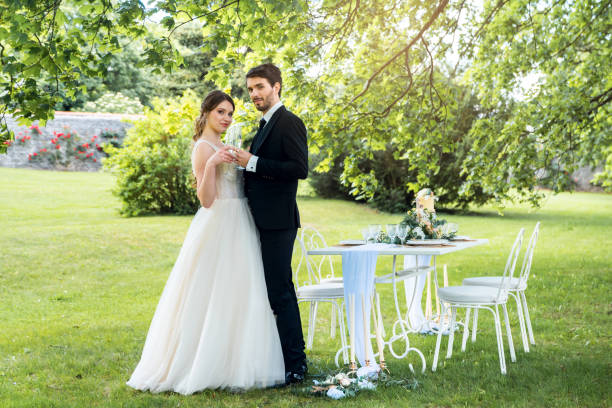 This is a popular wedding! A lawn wedding is the ideal romantic wedding for many girls. Let us understand the planning plan of a lawn wedding, hold a unique lawn wedding, and let love return to the purest nature. Imagine that the blue sky proves that flowers are the medium.
 But for a perfect lawn wedding, there are a few things to keep in mind.
1. Wedding date
Lawn weddings are back to nature and close to nature, so May-October is more suitable for outdoor lawn weddings, of which May, June, September, and October are the best choices. If your wedding is scheduled for April or November, if you plan to hold an outdoor wedding on a certain day in July and August, you should first consider sun protection and heatstroke prevention. A venue with natural shade and sun protection measures is a necessary factor.
2. Address selection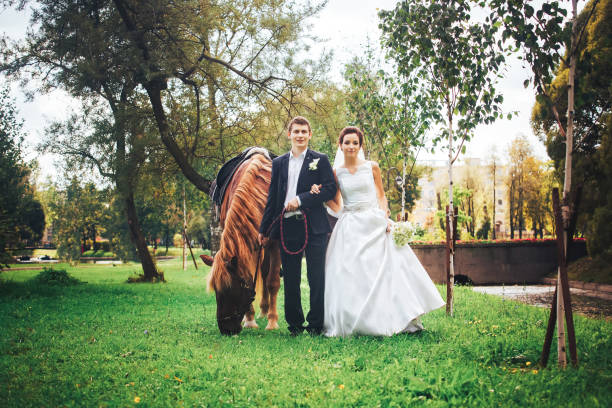 The choice of location for a lawn wedding is more important. Resorts with open green areas, villa gardens, or golf courses in the countryside are all good choices. A better idea is to find a place near a lake or mountains and water.
Of course, you can also choose to hold a small lawn wedding behind your own yard
3. Wedding reception
It is recommended to choose the buffet form at the wedding banquet, which can take care of the tastes of each guest.
4. Wedding dress
For wedding dresses suitable for lawn weddings, it is recommended to choose light colors, chiffon, and simple wedding dresses. Among them, 
simple chiffon wedding dresses
 are the most popular. In addition, lawn wedding dresses should avoid trailing wedding dresses.
Weather is a key factor in an outdoor wedding. Due to the length of wedding planning, it is difficult to predict the weather conditions on the wedding day. Have a backup plan and always be safe.
6. Wedding venue layout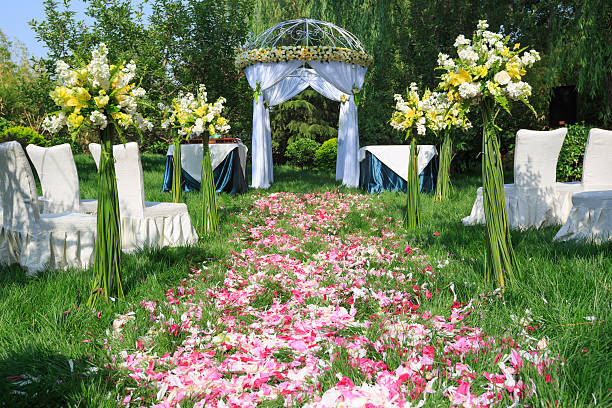 Outdoor lawn wedding venue decoration is a key factor in determining the success or failure of a wedding. In terms of color, since outdoor green occupies the majority, to achieve the harmony of the entire wedding environment, lighter colors such as white, pink, light purple, light yellow, etc. should be selected. Reminder: Do not use red a lot for lawn weddings. If there are candles and other decorations that day, some glass seats should be prepared to prevent unnecessary accidents.
7. Traffic factor
It is recommended that you indicate the form of your wedding on the invitation, and indicate the specific location (map) and mode of transportation of the wedding.
8. Seasonal Characteristics and Special Circumstances
(1) food. The outdoor temperature often affects the quality of food, so avoid perishable foods as much as possible, such as some vegetables mixed with mayonnaise, cut fruit, etc.
(2) Mosquito repellent. For guests to enjoy your wedding, it is their responsibility to turn away any unexpected guests such as pesky mosquitoes, flies, and insects.
(3) Take care of that special guest. When you send out the invitation, please indicate the format of your wedding. If you choose an outdoor wedding, especially a garden and lawn wedding, don't place child seats near lakes, depressions, roads, slopes, and other potential safety hazards.