Mother Of The Bride Dress-The Existence That Cannot Be Ignored In The Wedding
On the wedding day, not only the bride and groom need to dress themselves up carefully, but every new couple wants their mother to show her due temperament. The mothers of the newlyweds also play an important role, and their dress also plays an important role in the wedding. It is necessary to choose a suitable dress for mother before the wedding. Rjerdress has prepared some selection of mother of the bride dresses dress code, hope it can help you.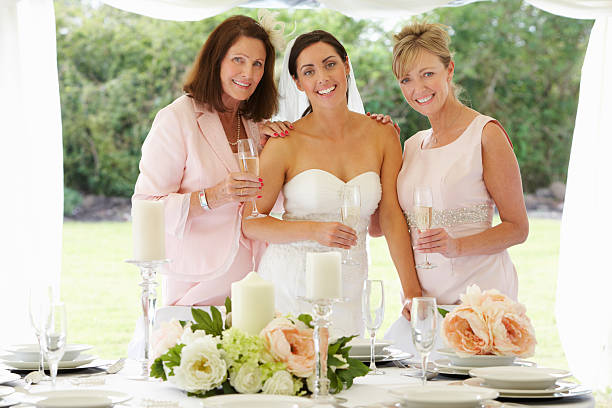 A guide to the outfits of the mother of the bride
1. Choose dresses that suit your skin tone
For mothers, they may prefer to wear the dress in lower colors. But on occasions like weddings, bright colors can be worn. Red is a good choice. If the mother of the bride likes bright dresses, consider preparing a plain coat or shawl for her mother, so as not to look tacky. If you don't like these bright colors, you can also choose more noble and elegant colors such as beige, gold, and purple. Highlight the dignified elegance of the mother.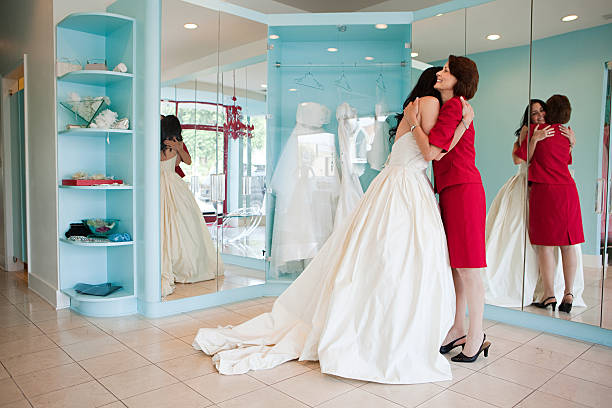 2. Choose fabrics that do not wrinkle
Some fabrics can wrinkle when sitting for a long time, making it easy to get into an embarrassing situation. A daughter's wedding is the big day, don't let the pleasing gown spoil the joy of the wedding. When choosing a dress, it is best to choose fabrics that are not easy to wrinkle, such as lace and chiffon.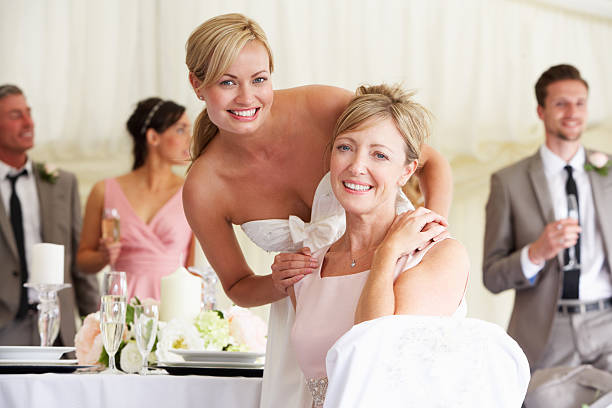 3. Demonstrate the strengths of your body
Body shape is more important for the choice of dresses. Different mothers have different shapes when choosing dresses. For thin mothers, you can choose some clothes that look more simple and elegant, and narrow skirts are the best choice. For those mothers with a more rounded body, you can choose some long skirts that are narrow at the top and wide at the bottom. The high-waist style is the best, which can correct the figure. Mothers generally prefer long skirts, but for middle-aged mothers, choosing a knee-length skirt can highlight the advantages of their figure, enhance their charm, and appear more elegant and young.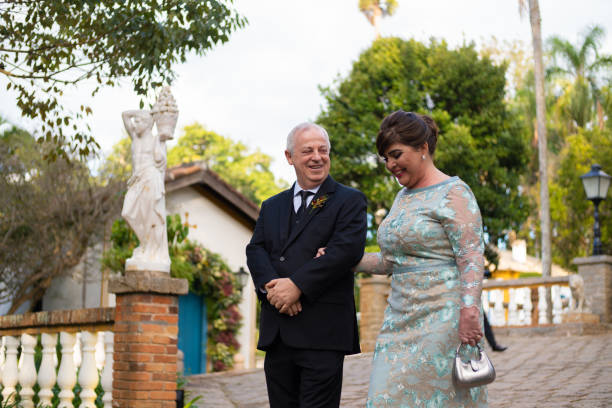 4. Wear the jewelry properly
At a wedding, in addition to dresses and hairstyles, matching jewelry, shoes, and bags are also very important. As a mother, you can wear some noble-looking accessories, such as pearl necklaces, brooches, shawls, and other small objects that match the clothes. . This allows the mother's elegance and nobility to show at the same time. The position where the jewelry is worn is very important, and different positions will create different feelings, so you must pay attention to the right place when wearing it, and choose a place that matches your temperament.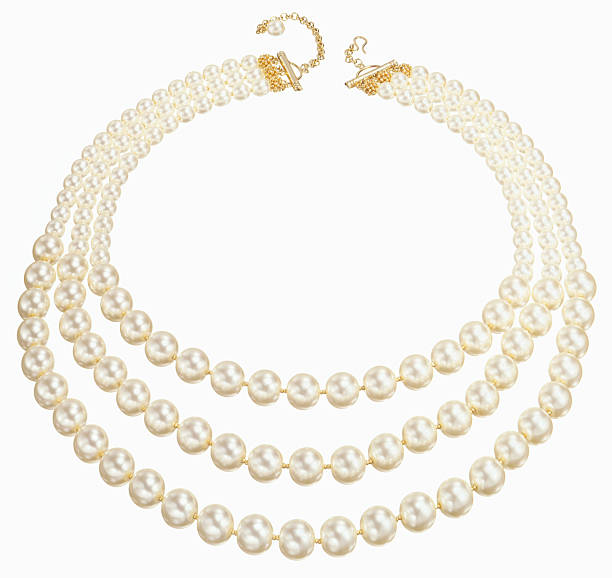 Dressing guide for mothers of different body types
1, thin body type
Thin mothers can choose simple and elegant evening dresses, but don't be too revealing. Tailored to fit the body can outline a good figure, and the chest and shoulders are wrinkled to make it look fuller and make the legs look fuller. The lines of the upper part are brought out.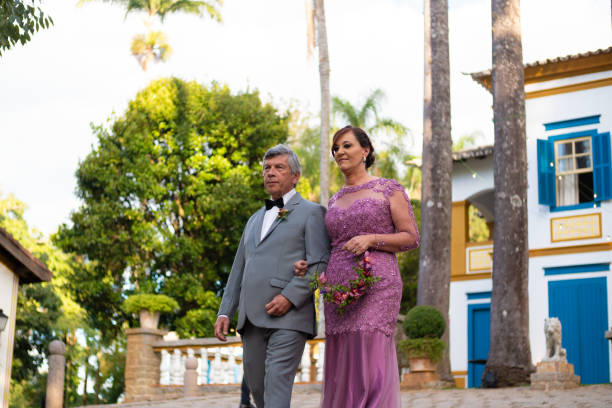 2, round body type
Round and plump mothers, choose a long dresses with a narrow bottom and wide bottom, and a high-waist design. This style is the most suitable, and it can also improve the body shape well. In this way, it is matched with some accessories, such as necklaces, It can be a good distraction from the body.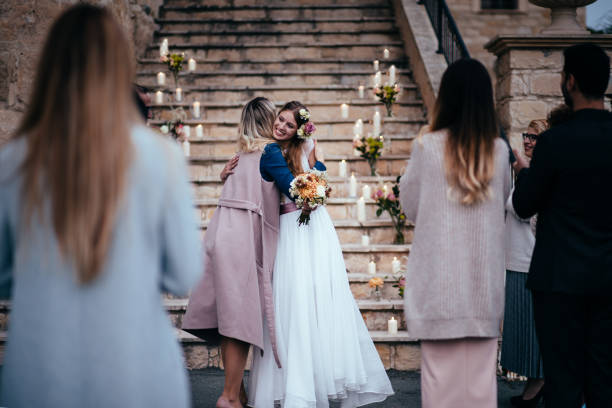 3. Tall and sturdy
For taller mothers, it is recommended to choose a knee-length dress with seven or 3/4 sleeves, which can not only cover the fat on the arms but also modify the figure very well. Match it with a pair of gold or nude high-heeled shoes to make the legs appear more slender.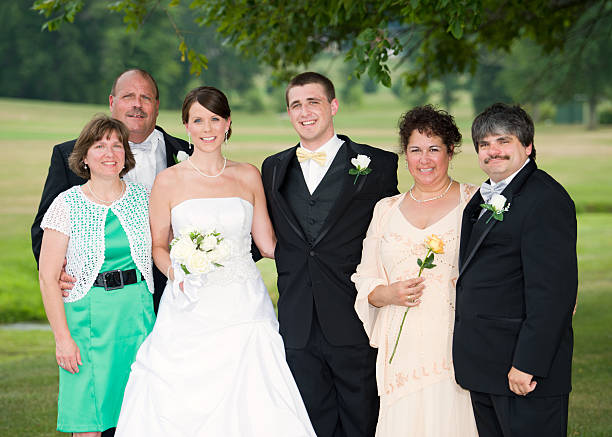 2022 Mother Of The Bride Dresses Trends
V-neck Red Dress
This bright red mother of the bride dress features a V-neck, high waist, and delicate embroidery. If you are looking for a dress for mom, this V-neck red mom dress is the best option. It's ideal for galas, cocktail parties, dance parties, weddings and other formal events!
Long Sleeve Straight Chiffon Dress
A stunning chiffon mother of the bride dress definitely has to say no. Especially when its hem pleats complement the belt. The low-key dark color also highlights the elegance of the mother. Make an unforgettable impression on all of your mother's guests at your wedding.

Simple Short Dress
Short dresses are becoming more and more popular with mothers because they are easy to walk around at weddings. If you are looking for mother clothes, you might as well choose this one.

Sexy Lace Mermaid Dress
This lace mermaid dress is a perfect fusion of lace, V-neck, mermaid style, long sleeves and other elements, which makes people move down visually. It is the first choice for mothers with a round upper body.
While the bride is the queen of the big day, it is very important that the mother is well equipped to compliment her appearance. Therefore, the importance of mother of the bride dress cannot be ignored.