Personalized Wedding Ideas To Create A Unique Wedding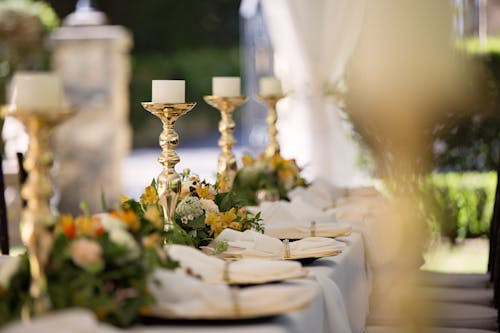 Modern young people, all hope to hold a personalized wedding. After all, there may only be one wedding in their life. If they just follow the steps, there will inevitably be some regrets. There are many different types of weddings today. If you want to make your wedding unique, you need to add some creativity and dare to try different styles. Here are some personalized wedding ideas to share with you, hoping to help you.
1. Unique wedding dress
If you want a personalized wedding, how can you get a unique wedding dress? Tired of the traditional ball gown wedding dress or long wedding dress, you can choose some unique 
wedding dresses
, such as high low wedding dresses or short wedding dresses, if you have a special Personality, you can also choose a more special wedding dress, such as a trousers wedding dress.
2. Special sign-in ceremony
Put a suitable number of wishing bottles in the sign-in area, and put some stickers on them, so that guests can write their blessings on the stickers after they arrive, and then put them into the wishing bottles, so that even late guests can, Of course, such a creative wishing bottle is also of great commemorative significance.
3. Different appearance ceremonies
Traditionally, the bride's appearance is with her father's arm. Although this way of leaving the factory is solemn, it is monotonous, and it is difficult to bring people a stunning feeling. If you want to break this tradition, you can try different ways of appearing. For example, you can substitute another scene, let the groom and the bride appear as some kind of comedy character, recreate a classic plot, or arrange for new people to sing duets or more. People dance, and appear in this fashionable way. This way of appearing will be very unique and personal.
4. Mysterious singing
A personalized wedding is to add some unexpected links, to make people shine and increase the fun of the wedding. Generally speaking, music is played at weddings, but this is a bit old-fashioned and nothing new. If you are confident in your singing skills, you can make a surprise attack. For example, the groom will present a song to the bride in a mysterious way, and then reveal his identity, so that everyone's emotions can be aroused.
5. Umbrella sprinkles flowers
If you feel that the traditional newcomer's entrance ceremony is not exciting enough, you can make more efforts in this area. For example, let your friends cooperate and stand with umbrellas on both sides of the entrance aisle. When the bridegroom and Xi Niang pass by, the people standing next to them start to spread Flowers, this will look very dreamy. However, this link requires a certain amount of tacit understanding. To achieve better results, it is recommended to rehearse several times before starting.
6. Balloons for wedding rings
The most eye-catching part of a wedding is when the groom puts the ring on the bride. The traditional wedding ring is given by the flower girl or the best man and the bridesmaid. Everyone is tired of seeing this form. To increase creativity, you can borrow balloons to pass the ring, which is more dreamy. When the hydrogen balloon slowly flew over the wedding ring, it would cause everyone to cheer.
7. Interact with guests
In traditional weddings, many guests lack a sense of participation. If you want to pursue creativity, you may wish to add some more interactive links to the wedding process, such as playing cheerful music, dancing with the guests to the music, and increasing the experience of the guests.
The above are some personalized wedding ideas to share with you, and you can learn from them. If you want to make your wedding different, you need to be ingenious. If you feel that you are not creative enough, you can find a professional planner.