Summer Party Essential Short Dresses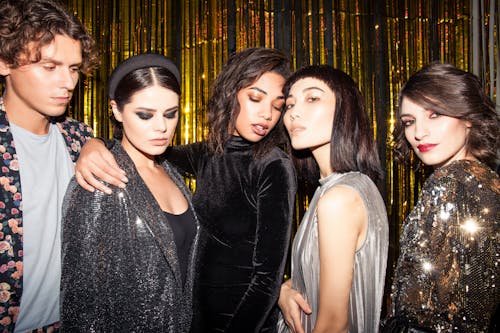 Summer is party season, and many parties are held during the summer. Being invited to a party sounds exciting, but in addition to the joy, what dress should you be thinking about to look perfect in this dance? When you are faced with this problem and it is difficult to choose, you can refer to some fashion magazines and related articles, I believe this will make it easier for you to choose.
When looking for party dresses, many questions come to our mind, such as what style and color to choose. But more importantly you need to know which dress is suitable for the party. Not every outfit is suitable for all occasions. We need to know that every occasion has its own special occasion dress, and determining the theme or occasion of your party can save you a lot of time in choosing a dress.
If the party you are attending is not particularly formal, you might as well choose some 
short party dresses
. Compared with the elegance of long dresses, short dresses are lively and playful, and allow you to move freely in the party. A great choice for summer parties.
Here, 
Rjerdress
 shows you some popular short party dresses to give you some reference for your choice
Sparkling Sequins
When it comes to party dresses, sequin dresses must be on the mind of many people, whether long or short, sequin dresses have always been very popular. This year is no exception, many dress shops have a lot of beautiful sequin short party dresses, you can easily find sequin short party dresses in any store online.
Although sequined dresses are very popular, there is a need to pay attention to the matching. Sequins themselves are a dazzling element, so no matter if you are wearing a sequined dress of any color, minimize accessories and only need to match it with a simple clutch. It is perfect.
Classic Black
The little black dress has become an indispensable fashion item today, driven by fashion icons and stars such as Audrey Hepburn, Coco Chanel and Princess Diana. In addition to Chanel's classic little black dress, many big-name gowns have a place for the little black dress. I believe that every girl has a little black dress in her wardrobe. Many girls choose the little black dress as the first evening dress in their lives. The reason why the little black dress is so popular is because it has a magical power, which makes every girl look elegant and generous after wearing it. Appropriate, flexible use of black dresses, but also can be integrated into daily life.
PuffyTulle
How can there be less tulle in summer? Tulle skirts have the characteristics of light, thin and breathable, and the texture of the fabric is soft and suitable for making different styles. Therefore, there are many types of tulle short dresses, which are also deeply loved by women and have distinctive wearing characteristics. Prominent, it is very good for showing feminine temperament or optimizing the image. However, the texture of the tulle is relatively weak, and it is difficult to form a visual appeal. Decorative elements can make up for the deficiency and make the outfit more interesting. Common decorative elements for thorns are embroidery and printing.
Embroidery is a classical element, and printing is a modern element. Classical elements can add a sense of splendor and nobility to the dress, and make the texture of the dress more attractive, but it is only suitable for small-area decoration. The decoration of printing elements is relatively atmospheric, and will not affect the fabric itself, which is suitable for large-scale use.
Sexy Sheath
If you're well-proportioned and have a more daring personality, why not try a sexy sheath short party dress? It can not only modify your good figure very well, let you get compliments at the party, but also very easy to match.