The Ultimate Guide - How to Choose A Plus Size Wedding Dress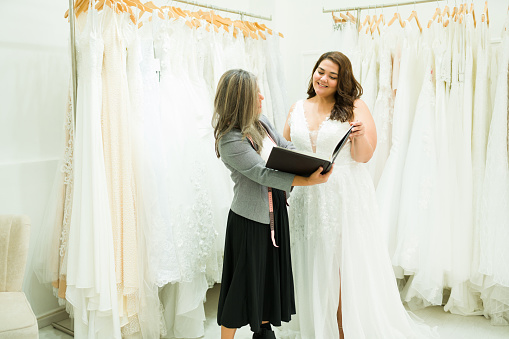 For the bride, choosing a wedding dress is an exciting and tiring job. Compared with tall, thin and white brides, chubby brides will undoubtedly face greater pressure. In fact, each body type has its own advantages, so you don't have to worry about not being able to choose a beautiful wedding dress because of your body shape.
There are many beautiful wedding dresses on the market, but the beautiful wedding dress is not necessarily the most suitable one. Only by choosing the right wedding dress according to your body shape can you show the most beautiful appearance of the bride. For plus-size brides, there is nothing more exciting than finding a beautiful and well-fitting wedding dress. But how to choose a well-fitting wedding dress is a headache for brides. Rjerdress compiled 5 tips worth referring to when buying a wedding dress for chubby brides, hoping to give some help to chubby girls.
Tips For Choosing A Plus Size Wedding Dress
Determine A Reasonable Budget
Plus-size wedding dresses are often more expensive than ordinary wedding dresses due to the need to consume more fabrics, beads, lace and other materials. Before you start shopping, you should set your own budget. Don't blindly try on wedding dresses that exceed your budget, so as not to get into an embarrassing situation. Trying on wedding dresses that are too extravagant will make your eyes look high, and it will be difficult to be interested in latecomers.
If you encounter a wedding dress style that is difficult to part with, try to consult the designer, whether it is possible to reduce the use of beading and embroidery, and only keep the original design decoration on the top part, while abandoning the workmanship on the skirt and trailing tail. Or whether the wedding dress of the same style can be replaced by relatively low-priced fabrics.
Choose The Right Size
The size of wedding dresses is often smaller than that of daily clothing. For example, a bride who needs to wear a size 14 for ordinary fashion should generally choose a size 16 or larger for a wedding dress. Most designers can make plus size wedding dresses, but bridal shops may only display popular sizes 8-12. Before going to the bridal shop to buy, you should contact the bridal shop first to confirm that the other party can provide you with your size.
Some bridal gown stores or online stores specialize in plus-size wedding gowns, and it's easier to find wedding gowns that fit plump figures there. Whether you prefer sweet, grown-up or exaggerated styles, plus-size brides can choose a wedding dress that helps accentuate their shape.
Choose The Right Material
Wedding dresses made of different fabrics are very different in terms of comfort and wearing effects. As a plus-size girl, I believe you prefer some fabrics that have a good drape and don't cling to your body.
Thick and crisp fabrics such as taffeta and satin are more suitable for brides with bumps and convexities. Wedding dresses made of this material can outline a graceful figure curve. The smooth and soft fabric will only wrap the body tightly, leaving nowhere for fat to hide.
Use Wedding Dress Tailoring To Highlight TheAadvantages Of Your Figure
The most important factor in choosing a wedding dress is to consider your own body characteristics. Brides with a plump upper body or hourglass body are suitable for mermaid wedding dresses, while A-line wedding dresses are more suitable for brides with a plump lower body. Brides with an apple body can choose classic ball gown wedding dresses or princess wedding dresses.
The strapless design will make the shoulders look thick, and the close-fitting short shoulder sleeves or the strap style with a sense of presence are more suitable for brides with plump upper body. Avoid tops with too many beading or appliqués, as they will only draw attention to your overly bulky upper body.
Plus-size brides don't necessarily have to choose slim fits. There are some knee-length cropped dresses that can wow a slightly fat bride. A well-fitting wedding dress also needs perfect underwear to match. The underwear with self-cultivation function can optimize the body curve of the bride's abdomen, buttocks, thighs and back, making the wedding dress more elegant and decent.
Maintain a confident attitude 
When choosing a wedding dress, you should maintain a bold and open mind, explain to the sales consultant the type of wedding dress you like, and listen to sales suggestions appropriately. The wedding dress that really suits you should be very fit and feel comfortable on the skin. Knowing your preferences is the most important thing. If you are unsure, you may wish to refer to the suggestions of the groom and bridesmaids.
Rjerdress 5 Big Top Plus Size Wedding Dresses

Plus Size Boho Lace Sheath Wedding Dress
Plus Size Black Long Sleeves Tulle Wedding Dresses
Plus Size A Line Lace Sleeveless Wedding Dresses
Plus Size Ball Gown Satin Wedding Dresses
Plus Size Off The Shoulder Mermaid Wedding Dresses