Tips For Choosing A Wedding Dress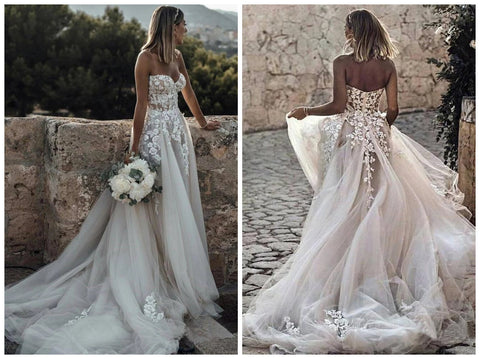 Every bride wants to be beautiful on their wedding day. A beautiful and fitted wedding dress is the key to making the bride beautiful. However, there are many
wedding dresses
on the market. How can the bride choose a more suitable wedding dress? Of course, there are some skills in choosing a wedding dress. The bride can choose the wedding dress that suits her by judging her characteristics based on a full understanding of her own.
1. Know yourself fully
When choosing a wedding dress, the bride does his homework in advance, first understand what styles of the wedding dress are available, and choose a few styles that are of interest to the bride. If the bride knows what style of wedding dress she wants, she can also go directly to the bridal shop to try it on.
2. according to skin tone
Fair-skinned brides are better candidates for wedding dresses, as they can control almost any color. Brides with darker skin or yellowish skin try to choose a color that complements their skin color when choosing marriage. If you are worried about making mistakes, you can choose white, champagne, ivory, these frequently used colors.
3. According to body shape
Brides with the full upper body can choose wedding dresses with the simple upper body design and showing the advantages of breast line, such as spaghetti straps wedding dresses and
V-neck wedding dresses
; 
brides with full-body lower bodies should avoid wedding dresses that focus on folds and choose princess dresses with skirts as much as possible.
A bride with a fuller figure is suitable for a straight-cut dress, and the waist and skirt design should be avoided as much as possible. Such a dress will look slimmer.
Tall and thin brides are suitable for wedding dresses with a strong sense of shoulder design, which can make tall and thin brides look more energetic, such as shoulder pads, exaggerated puff sleeves, and lotus leaf designs. energetic, such as shoulder pads, exaggerated puff sleeves, and lotus leaf designs.
4. According to face shape
Round-faced brides can choose a V-neck wedding dress. The V-neckline modifies the face and lengthens the neck, making it look thin.
The square face is wide and large. You can choose a U-shaped neckline to cushion the wedding dress selection, and you can choose a double-shoulder wedding dress.
The face of the bride with melon face or oval face is very good and can control any style of wedding dress, so don't worry about which style of wedding dress to choose.
5. According to height
Petite brides are suitable for wearing high-waisted wedding dresses to modify the proportions of the body. Try to avoid the skirts of the wedding dresses from being too fluffy, resulting in light head and feet and highlighting the shortcomings of short stature. The upper body can be gorgeous and varied, and the skirt and veil should not be too long.
Tall brides can choose mermaid, mopping wedding dresses to show the bride's good figure.
6. Listen to the opinions of others
Bring your good friend or mother when trying on the wedding dress. They can give you some suggestions, or listen to the opinions of professional dressmakers, use their opinions as a reference, and choose your favorite style. Choosing a wedding dress is a hard but happy thing. I look forward to every bride's most beautiful self on the wedding day.