Which Fabric Is Better For Wedding Dresses? Satin Or Lace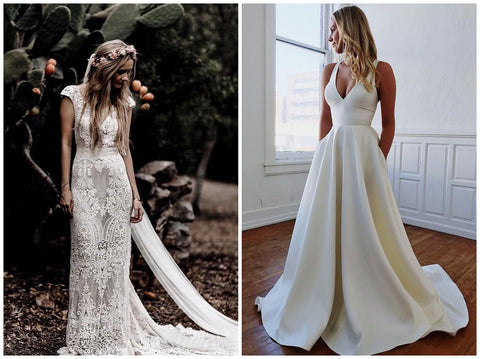 When you get married, you can't do without beautiful wedding dresses. However, with so many types of wedding dresses on the market, how can the bride choose a suitable wedding dress? Which kind of fabric is better, satin or lace?
Lace and satin wedding dresses each have their advantages. 
As a frequently used element in wedding dress design, lace can be well-matched with other fabrics such as satin and tulle. However, full
lace wedding dresses
have higher requirements for the bride. It will be cheap to wear, and satin wedding dresses are more suitable for creating a sense of luxury, but if they don't match the bride's look and temperament, it is easy to wear a sense of old age, so the bride should choose with the effect of the trial yarn when choosing.
A satin wedding dress or lace wedding dress is better
1. The characteristics of satin wedding dresses. The satin fabric has a thick texture, good drape, and a sense of weight. It emphasizes the feminine lines of women, and can better show the mature and elegant temperament of women. The fabrics of satin wedding dresses can create gorgeous The effect has a high-level sense. The satin fabric is especially suitable for making line-like mermaid, court-style, or large-tail wedding dresses, which can reflect the sense of simplicity and femininity. Satin wedding dresses are very suitable for brides with more temperament. They can well reflect the mature and elegant temperament of a woman and achieve the effect of grandeur and dignity.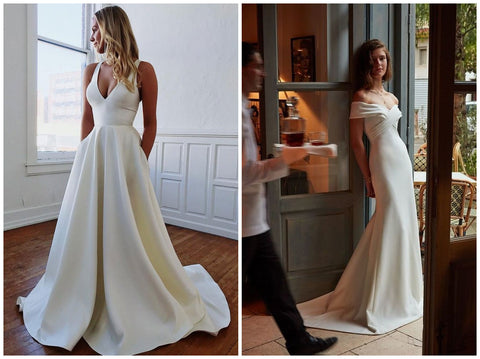 2. The characteristics of lace wedding dresses Lace is undoubtedly the most common and classic element in wedding dress design. Lace wedding dresses give people a retro, mysterious, pure, luxurious, romantic, and feminine feeling. The lace design is beautiful, the craftsmanship is unique, and the touch is softer. Wedding dresses in classic lace, in addition to Lawn weddings, like small and fresh forest-themed weddings, retro and elegant European-themed weddings, almost all applications. Lace was originally used as an accessory. It has a delicately crafted sense of luxury and a romantic atmosphere. Now more and more designers and brides prefer to use lace as the main material of wedding dresses. There are many types of lace, and laces of different flower types can evolve into different romantic styles. However, the shortcomings of lace wedding dresses are fatal. The requirements for figure and skin color are very high. If you accidentally wear a mosquito net on your body, it does not reflect the sense of nobility but gives people a sense of cheapness.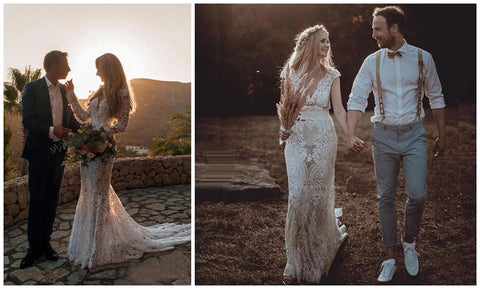 Summary: From the characteristics of satin wedding dress and lace wedding dress, it can be seen that the two wedding dresses wear different effects and the visual experience is completely different.
Satin wedding dresses
are more inclined to highlight the bride's temperament and create a sense of nobleness, white lace wedding dresses are It is more suitable to create a sexy and romantic feeling, but these two wedding dresses have higher requirements on the figure and are more suitable for thin and white brides. Both satin and lace wedding dresses are very popular. Whether the dressing effect is good or not depends on the suitability of the bride. If you are undecided, you might as well try both wedding dresses.
Who is suitable for satin wedding dresses and lace wedding dresses?
[Who is suitable for a satin wedding dress]
1. A tall and thin bride wears a satin wedding dress. The visual texture of satin will look more famous, and it will look very neat and generous when worn on the body, which can well show the bride's noble and elegant temperament. But for plump or cute girls, the satin wedding dress is not your choice, it is more suitable for tall and thin brides or brides with better body proportions.
2. Elegant brides can also try because the satin fabric is thicker, and the beauty of satin wedding dresses that are not flexible is mainly in their streamlined tailoring and the unique luster of satin. This also caused a slightly plump and petite bride to wear it into a disaster. Because the extra meat can't cover, the wedding dress is too long to hold. If the bride looks more atmospheric or has a very gentle temperament, you can also try a satin wedding dress. Maybe it will have amazing results.
3. Sweet brides need to choose a style of satin wedding dress that is more suitable for mature. Some styles of Yujie's style will make sweet brides look old-fashioned. If this type of bride wants to wear a satin wedding dress, it is recommended to choose lace as an accessory. The style of satin wedding dress, and the use of veil and accessories to coordinate the overall style.
[Who is suitable for lace wedding dresses]
Lace has a strong sense of fineness and is not suitable for dark-skinned brides. Fair-skinned brides will wear better and look elegant and moving. Lace plus sexy fishtail design, loose skirt tails, and lace-wrapped hips look even more Sexy and mysterious, cleverly outlines the graceful curve of the bride's figure. If you have a good figure, you can choose any wedding dress.
Satin wedding dresses are atmospheric, lace wedding dresses can be retro and romantic. If it were you, which one would you like?